Skip to Content
Small Meeting Venues in Orlando
Enjoy Access To:
Six Meeting Galleries
Three On-Site Dining Outlets
Business Center
Unique Wellness Break Options
High-Speed Wi-Fi
Exquisite Catering
Over 10,000 sq. ft. of Function Space
Half Day & Full Day Packages available for booking
Sophisticated Technology & A/V Services
Small Meeting Venues
European Gallery
500 sq. ft.
Accommodates up to 40 guests
Located on the fifth floor, the European Gallery is a polished and private setting for gathering your key players for team trainings or a late-afternoon recap after a nonstop day of meetings.
Kessler Boardroom
373 sq. ft.
Accommodates up to 20 guests
Featuring executive-style winged chairs, an expansive boardroom table, and walls adorned with art that captivates the mind. This is a supreme space to ink that next big contract, interview potential leaders, or hear from your closest confidants.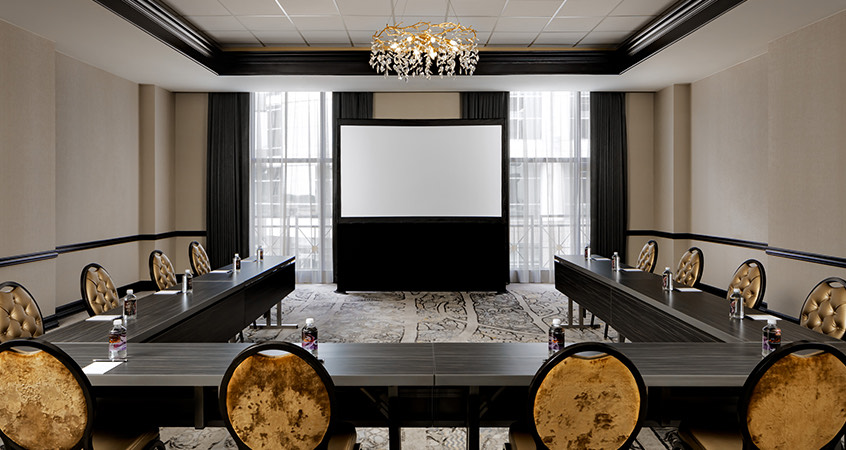 Gallery I, II, III
725 sq. ft.
Accommodates up to 50 guests
Boasting paired floor-to-ceiling windows that invite in the natural light between, these small meeting venues in Orlando strike a welcomed middle ground between boardroom and ballroom. These galleries boast dedicated space for meal platters, beverages, and more.
Orlando Gallery
525 sq. ft.
Accommodates up to 25 guests
The closest meeting room to our stunning Johann Strauss Ballroom on the fifth floor, the Orlando Gallery is an ideal setting for a breakout session, small team meeting, or temporary business office.
Gallery IV
572 sq. ft.
Accommodates up to 50 guests
Spaciously accommodating small-to-midsize groups with ease in all configurations—from banquet and theater to conference and classroom—Gallery IV is ideal for signing your next big contract, conducting interviews with executives, or engaging in discussions with your trusted advisors.
Peacock Room
462 sq. ft.
Accommodates up to 24 guests
Tucked within The Boheme, this striking private dining room takes its design cues from its extravagantly showy namesake, creating a one-of-a-kind backdrop for a breakfast meeting, business luncheon, or elegant dinner.
Bohemian Wine Room
250 sq. ft.
Accommodates up to 12 guests
Our sophisticated private dining room takes you and your guests on a bohemian journey through elegant design, global-inspired flavors, and a lush, inimitable ambiance.